For centuries, until the industrial revolution, Spen Valley's homes were scattered farmhouses (like Egypt Farm Gomersal, Lower Blacup Farm Cleckheaton, or Stubley Farm Heckmondwike), and clusters of cottages. Wealthy clothiers built more elaborate houses of local stone, with frontages of several gables topped by ornamental stone finials. Many of these were in Liversedge, then the most important township, where we can still see Haigh Hall, Liversedge Hall, Lowfold Hall and Duxbury Hall. Heckmondwike had Old Hall (now a pub) and Gomersal had Pollard Hall. The Taylor family's Red House in Gomersal (1660, Grade II* Listed) was unusual for being made of red brick.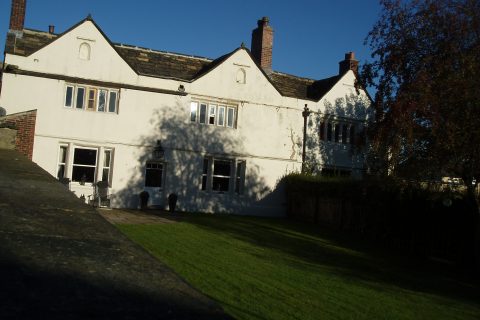 Few ordinary people's houses survive from this time because they were built with whatever the owner could find. Often they were single-storey cottages with one room downstairs and a ladder into the roofspace where children and adults slept. The elderly or infirm would have a bed in the corner of the living room. Families worked together to farm and process wool. Spinning and carding were done in the living room by women and children. Some two-storey homes had special larger windows upstairs to give enough light for men to weave woollen cloth on a loom. Nearby were "tenterfields", where cloth was stretched over hooked frames to dry.
Apart from churches, the other main buildings were cornmills on the River Spen (eg. at St Peg Lane Cleckheaton and Millbridge), small workshops like blacksmiths, and inns. Inns were used for socialising, business, justice, and "local government." If they were on a main route they might be stopping points for the mail coach and act as post offices, eg. The Globe, which was at Millbridge. There were few shops: goods were bought from travelling traders and at outdoor markets like Heckmondwike (1760). There were some less popular buildings: a debtors' prison at Jail Road White Lee (1649-1800); and until 1854 local workhouses: Heckmondwike's was on Northgate; Liversedge's at Roberttown; and Birstall's at Muffit Lane Gomersal (now a house). During this time there were Cloth Halls for trading textiles, and Heckmondwike had a Blanket Hall due to its speciality of blanket-making.
When the industrial revolution reached Spen Valley at the start of the 1800's, there was a building boom. Mills became large factories with chimneys, as coal created steam to power machinery. Rows and rows of terraces were erected to house workers. Many were back-to-back, eg. Brighton Street Heckmondwike or Quarry Street Cleckheaton. Town centres grew, with shops, chapels and Sunday Schools, banks and offices. Heckmondwike and Cleckheaton had public baths until Spenborough Pool opened in 1969. Clinics (Elm Bank, the Ellison Clinic and The Hollies) and isolation hospitals (eg. North Bierley 1892 by Cleckheaton Golf Clubhouse) were necessary. Spen's fine Grade II Listed Town Hall in Cleckheaton was paid for by public donations and opened in 1892. By the end of the 19th Century the rural green Spen Valley had become a smoky mass of cobbled streets, buildings and chimneys.
The 20th Century saw cinemas come and go: Cleckheaton had the New Picture House and the Savoy; Heckmondwike had the Palace and the Pavilion.  Our first library was Heckmondwike's (1909) funded by the Carnegie Trust, followed by Cleckheaton's (1930), which was purpose-built and a gift to the townspeople from the wealthy Mowat family. From the 1950's onwards we lost most of the large mills. Three that remain have been converted into housing: Balme & Prospect Mills, Cleckheaton and Brunswick Mill Heckmondwike. The 1950s saw demolition of many old houses that had no indoor sanitation: people moved into houses with bathrooms and gardens on estates like Windybank and Dale Lane.